Saita Pakistan has the state-of-the-art construction and project equipment's which provides a competitive operational advantage and contributes to the high quality and timely completion of projects. Our customers can be confident that Saita's equipment is safe and reliable. Our fleet/equipment listed below, includes dozers, excavators, breakers, cat loaders, grader, trucks, rollers and others;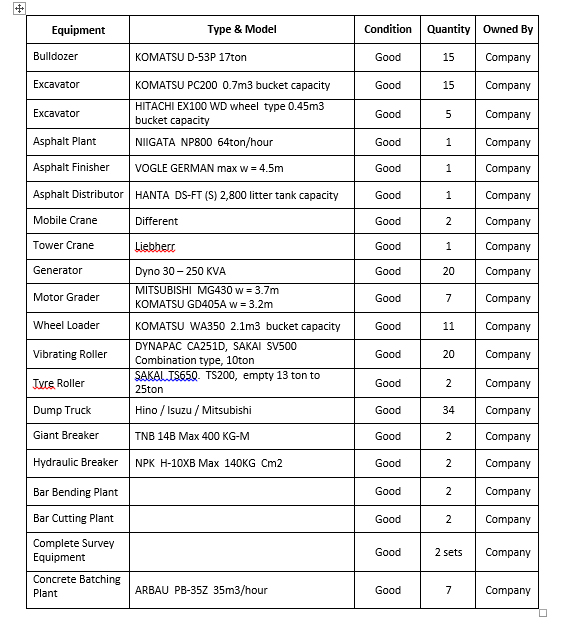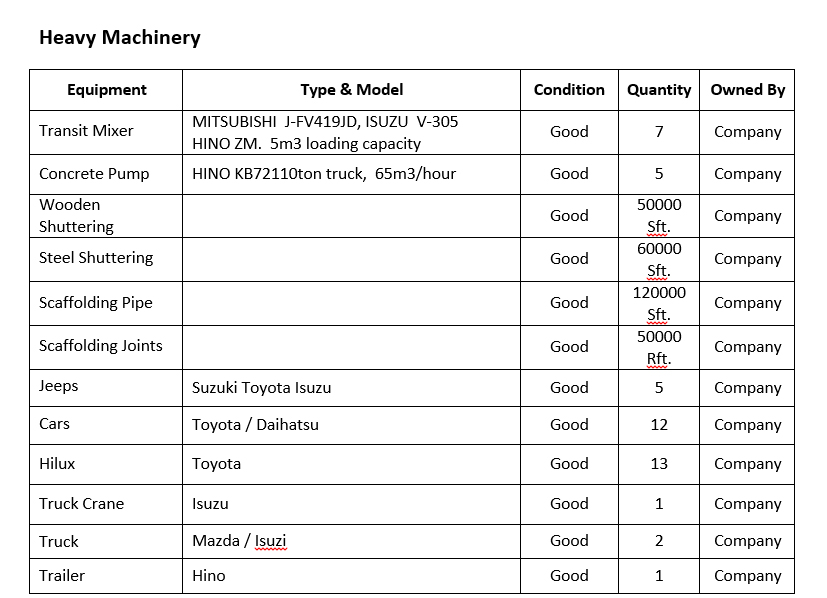 List of Tools Plants & Equipment for Constriction, Erection & Stringing of High Tension Transmission Lines
| | | | | |
| --- | --- | --- | --- | --- |
| | | | | |
| S. No. | Equipment | Condition | Availability | Owned By |
| 1 | Complete Survey Equipment | Nos. | 03 | Company |
| 2 | Concrete Mixer Machine | Nos. | 08 | Company |
| 3 | Vibrators with Leads | Nos. | 05 | Company |
| 4 | Plate Compactor  (Mechanical ) | Nos. | 03 | Company |
| 5 | Centrifugal Pumps with Diesel   /  Petrol Engine | Nos. | 13 | Company |
| 6 | Diesel Generator set (Different Capacities) | Set | 05 | Company |
| 7 | Formwork Tower Foundation | Sft. | 31500 | Company |
| 8 | Formwork / Shuttering Plates | Sft, | 16500 | Company |
| 9 | Scaffolding Pipe and Joints | Rft. | 34000 | Company |
| 10 | Aluminum Derrick Pole  ( Gin Pole ) | Nos. | 01 | Company |
| 11 | Steel Derrick Pole | Nos. | 01 | Company |
| 12 | Light Winch Machine | Nos. | 03 | Company |
| 13 | Pulley Blocks | Nos. | 12 | Company |
| 14 | Torque Winch | Nos. | 08 | Company |
| 15 | Snatch Blocks | Nos. | 08 | Company |
| 16 | D – Shackle | Lot | Bulk | Company |
| 17 | Steel Rope for Winch machine | Rft. | 3560 | Company |
| 18 | Steel Rope for Guy  (150 Ft. each) | Nos. | 20 | Company |
| 19 | Manila Rope  (250 Ft. each) | Nos. | 21 | Company |
| 20 | Ring Spanner Off Size | Lot | Bulk | Company |
| 21 | Toome Sets | Lot | Bulk | Company |
| 22 | Safety Helmets / Belts | Lot | Bulk | Company |
| 23 | Chain Blocks 3 tons & above | Nos. | 30 | Company |
| 24 | Steel Slings Off Size | Lot | Bulk | Company |
| 25 | Misc. Small T & P | Lot | Bulk | Company |
Heavy earth moving machinery work in progress.
Dragline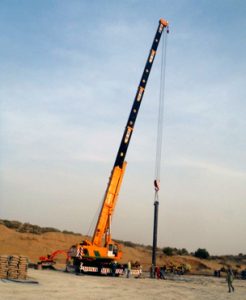 A dragline excavator is a piece of equipment used in civil engineering and surface mining. In civil engineering the smaller types are used as pile driving rigs. The larger types are used in strip-mining operations to move overburden above coal, and for tar-sand mining. Draglines are amongst the largest mobile equipment ever built on land, and weigh in the vicinity of 2000 metric tonnes, though specimens weighing up to 13,000 metric tonnes have also been constructed.
Under 25 yd.
Elevating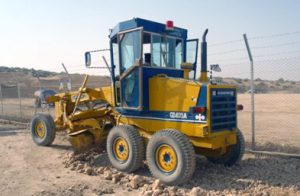 Instead of an apron, these scrapers include a hydraulically- or electrically-driven elevator made of two chains equipped with a series of crossbars. The elevator's purpose is to aid in loading material into the scraper's elevating bowl. Dumping material is achieved by sliding the floor of the bowl backwards; the elevator can be reversed in order to assist in dumping the load evenly.
Elevating Drill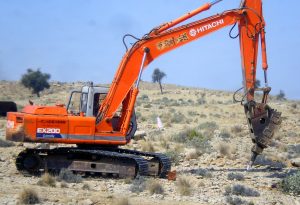 Giant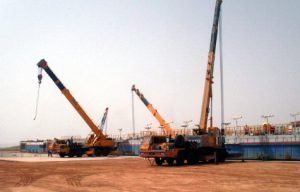 Motor Grader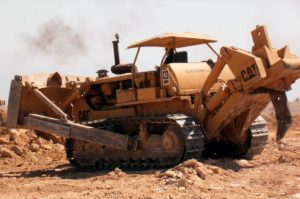 A grader, also commonly referred to as a road grader, a blade, a maintainer, or a motor grader, is a machine with a long blade used to create a flat surface. Graders are commonly used in the construction and maintenance of dirt roads and gravel roads. In the construction of paved roads they are used to prepare the base course to create a wide flat surface for the asphalt to be placed on. In civil engineering, the grader's purpose is to "finish grade" (refine, set precisely) the "rough grading" performed by heavy equipment or engineering vehicles such as scrapers and bulldozers.
scraper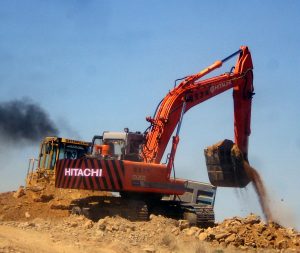 Scrapers are large motorized machines used for digging, hauling and leveling out materials in a variety of construction jobs. Running on massive rubber tires, motorized scrapers quickly move large quantities of earth around a construction site, unlike the less popular pull-type scraper.